From casual casinos where punters go in for a few spins after the pub, to more classy outfits with dress codes, fine dining and legitimate professional table games, London's casino scene has something for everyone.
Over the years, people have associated Las Vegas with the most opulent casinos in the world. And it's understandable, since Vegas is rightly seen as the proverbial home of gambling.
The cliché has been regularly portrayed in pop culture, with Hollywood blockbusters having strong Las Vegas casino themes since the early days of cinema. Movies like Ocean's Eleven and Casino helped to build the aura of casinos in Las Vegas.
However, London is its own hub of luxurious casino activity – the quintessential home of suave, sophisticated class has a wide selection of fancy private members' casinos to match.
Private Members' Casinos Today
Private members' casinos are casinos that provide facilities and casino services to private patrons. These were originally more elitist, with members having to be elected in order to join. Nowadays, they are more accessible and do not have class or gender rules. They offer food, drinks, casino games and comfortable surroundings to fee-paying members.
Clubs like this are a little rarer in today's environment, with high membership costs still acting as a barrier to entry for a lot of people.
Of course, more people are opting to play casino games online today, and these provide a lot of competition for more traditional land-based venues. This option allows players to avoid not only the membership fees associated with a private club, but also the higher buy-in amounts for games and other spending that goes on while gambling in person.
Online players can also benefit from the increased availability of safe payment methods that allow them to play online casino games without having to worry about the security of their funds. Players should opt for a casino that accepts payment methods like Neteller or Skrill. For example, online casinos that accept Neteller are safer and more secure than depositing money straight from a bank account.
However, there is still a big market for private members' casinos in brick-and-mortar venues as this experience is impossible to replicate online.
For those who prefer the convenience of online gaming, the best google pay casinos offer a similar experience with the added benefits of accessibility and ease of use.
With this in mind, we will take a look at the different venues in London that offer the finest private members' casino facilities…
Crockfords Casino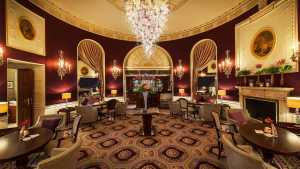 Crockfords casino is an exclusive casino, which has always had a feel of privacy and an association with high rollers. Even though today it has an open-door policy, it still has private rooms and particular tables that have very high minimum bets.
It is not uncommon for funds in the millions of pounds to change hands in the club. The choice of games includes Blackjack, Poker, Roulette, and Punto Banco. Some of the wagers are up to £75,000 on one hand.
The service is excellent, and though there aren't bedrooms you can stay in at the casino, it has an amazing choice of food and drink for the discerning player. The bar boasts an extensive drinks list featuring some of the best whiskys and champagnes in the world.
The casino is open 6pm – 6am, 7 days a week, at its prestigious address in Mayfair – an area known for its classy establishments and high-end bars and restaurants.
Crown London Aspinalls

One of the most upscale casinos in the UK is the Crown London Aspinalls Casino. Originally home to The White Elephant Club, this was a top dining destination for Hollywood stars in the 1960s.
Given its history, it was the perfect venue for a high-end private members' casino when John Aspinall acquired the premises in 1992.
The original brass elephant still accompanies the main entrance in a nod to the classy beginnings of the venue. Once Aspinalls joined the global Crown Resorts group, it became an internationally renowned luxury casino.
With a huge assortment of top-notch table games and fantastic cuisine options, this members-only casino is exclusive for a reason. The casino is ideally located in Mayfair and is open 24 hours a day. The plush interior is modelled on the style of a country mansion and ensures a unique experience for patrons.
There are four separate gaming areas at Crown London Aspinalls, and each offers a distinctive table gaming experience. Patrons can play games like Baccarat, Blackjack, Three Card Poker, and American Roulette while being attended to by professional staff. This casino provides a unique journey back to the opulence of 1960s London and it is not to be missed.
Les Ambassadeurs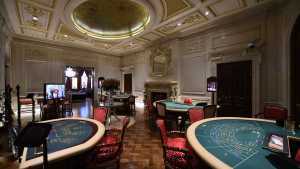 The final club on our list is Les Ambassadeurs. Another luxury venue located in Mayfair, this members-only club offers a truly high-end gambling experience for its patrons. It is housed in one of the finest Georgian properties in Mayfair and this private venue is open 24 hours a day to members.
This club blends British heritage with state-of-the-art facilities and includes private gaming rooms and world class cuisine. For more than 100 years, the main gaming floor in the club has had visitors including royalty and numerous celebrities.
The best table games are on offer, and a group of experienced professional croupiers are employed to provide the best service possible. Table games such as Blackjack, Baccarat and Three Card Poker are available.
There are three exclusive private gaming rooms, The Marble Room, The Leopold Room and The Gold Room, with each one having its own distinctive design and charms. There are also two rooms with a terrace, The Penthouse Rooms and The Palace Rooms, with breath-taking views of London and extravagant features like Roma marble and gold leafed ceilings.
For those with a keen eye for design and a taste for the luxurious, Les Ambassadeurs is a private members club that must be experienced.
Club class
It is safe to say that London is the place to go for those looking for a private members' casino. While the best clubs are focused in and around Mayfair, there is still a suitable selection of private casino facilities for high end players.
While there may be a larger cost involved than a regular casino, it is obvious from the above venues that there is value in this type of casino.
It may not be the norm, but these private members' clubs have stood the test of time and will continue to provide a luxury experience to patrons from London and beyond for years to come.