WHAT'S THE MOST important thing to look for when buying a piece of art?
At Red Eight Gallery we always advise our clients to choose work that they love from up-and-coming artists with a bright future ahead of them.
Now more than ever is the time to pick up well-priced art from emerging creators which will grow in value significantly in coming years.
The best part of our job is discovering the hottest new talent – and art that is well worth investing in right now.
Here are three artists we're really excited about – and could be the blue chip artists of the next decade…
PANIK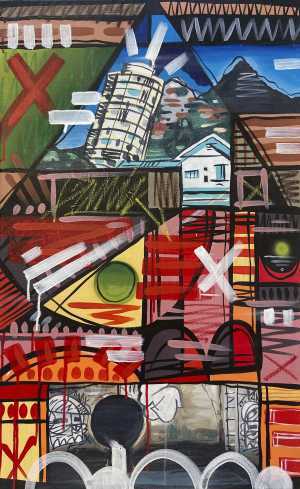 Known for his willingness to go higher than anyone else, Camden-born graffiti artist Panik made a name for himself in the Noughties as co-founder of the ATG crew.
His daredevil Spiderman antics were developed out of a desire to leave his mark in the most inaccessible, vertigo-inducing places where street cleaners would be unable to scrub it off.
After several run-ins with the police, Panik decided to trade in walls for canvases.
Transferring their work from vast spaces on the street to the strict confines of canvas is something most street artists struggle to do. Panik is one of the very few who has been able to make that leap while preserving the energy and grit of his graffiti roots.
The last artist that we all know of who was able to do that successfully is Banksy. The two in fact have a close relationship, with Banksy inviting Panik to stay at Palestine's Walled Off Hotel in 2017.
While there, Panik painted the 100ft long "Stand Taller Than Walls" mural along the wall with Israel along with fellow ATG crew member and street artist Jan Francis.
Despite enjoying global success as an emerging artist, Panik has stayed in touch with his local roots on the streets of north London.
Red Eight Gallery recently collaborated with Panik to release a limited number of hand-signed prints of "Could Be Worse", a piece inspired by the Covid-19 pandemic, with proceeds going to support a youth club in the neighbourhood where he grew up.
As former street artists, it's only natural to draw parallels between Banksy and Panik, but what's also clear is that Panik is very much making his own way in the highly competitive contemporary art market.
RACHEL CHAMBERLAIN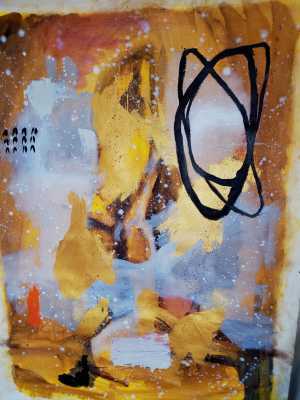 Like many artists, Rachel Chamberlain's life hasn't been easy. Finding out she had been adopted as a child sent the Baltimore-born artist on a complex journey of self discovery, something she coped with by learning to meditate.
This contemplative practice is now an integral part of her artistic process. She meditates while listening to music, allowing her to break down the soundwaves of the piece and capture its essence on canvas. Her otherworldly pieces are literally inspired by the tune of the universe.
Throughout her work you'll see stark lines and dripped paint running down the canvas which represent soundwaves. Her bold use of colour is a response to how each particular piece of music makes her feel while she is meditating.
The result is unique large-scale abstract canvases with a distinctive interior design appeal. Viewers are invited to engage with her work on a deep spiritual level, seeking meaningful connection with everything from the cosmos to their own unconscious mind.
Our clients always tell me they look incredibly beautiful both within a gallery setting and hanging on a wall at home, making her work a solid investment both in financial and aesthetic terms.
ADEL DAUOOD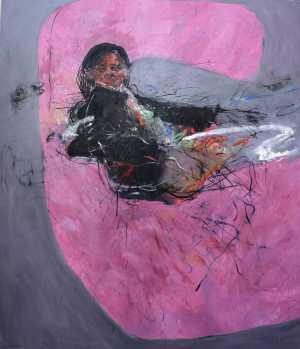 Syrian artist Adel Dauood channels his personal history and the dark story of his homeland into his incredibly moving artworks.
For Dauood making art is a way to express and process the traumas both he and his country have been through, as well as a universal reaction against the wars and unrest that rage on all over the world.
His powerful canvases mix reality with memory, with many featuring shadowy figures drawn from his own life suspended in a vortex of bold lines and vivid swathes of colour.
Dauood was forced to flee the brutal civil war in Syria, taking refuge in Vienna where he had to adapt quickly to a challenging new environment while sharing a room with nine others. Art became a form of escape and a way of connecting with his past and reimagining his future.
He finally achieved the recognition he deserved in his adopted country when his work was selected from over 750 entrants in a contemporary art project called 'The Future of Painting'. Since then he has been invited to exhibit all over the world, including at Red Eight. 
For more information about these artists or art investment, please visit redeightgallery.com