I first encountered Jane Hilton's work at the Jerwood Gallery in Hastings.
The show 'Knock Knock' was brilliantly curated by the late Gerard Hemsworth. It brought together works by a number of artists with links to the coastal town.
As well as Hilton, there was Fiona Banner, Becky Beasley, Stephen Buckley, Martin Maloney, Alessandro Raho and Mario Rossi.
But I was most captivated by Jane's works - especially those depicting cowboys in repose seated on their beds.
These photographs from the Dead Eagle trail series, struck me as incongruous, as the iconic cowboy becomes emasculated by the soft furnishings, and the vast, mythic, expanses of western landscape, in which we'd usually see such a figure situated, are perhaps screened off behind the pale curtains.
The image, to me, is suggestive of Jon Voight as the misplaced hustler Joe in the 1969 film Midnight Cowboy.
Now, in Summer 2021, Solaris is delighted to present 'For Better or For Worse' an exhibition featuring Jane's photographs of American wedding chapels. These interior spaces, that are designed to be inhabited by people, are deserted of the celebrants that would normally gather there. We can now peruse, in detail, the unique character of these rooms that were never conceived to be viewed in isolation, and they become both eerie and absurd.
The desolation, combined with the extravagant flashy ornamentation, can create an eerie sense of uncertainty within the viewer. I feel a physical response to these works as the unintended empty spaces could suggest an apocalyptic world, a moment that has been captured but is transient and may never be the same again.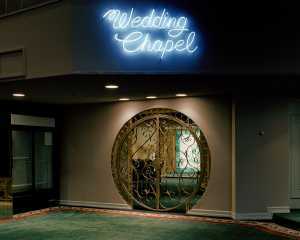 This work could also suggest the cinematic, the liminal Neon Wedding Chapel, in particular, could also evoke an American screen awaiting protagonists, awaiting drama. Another photograph, the Angel Chapel, seems to suggest a vision of the afterlife informed by wedding cake aesthetics. The bizarre, set-like, space depicted in this work seems unbelievable as a real function room. Instead, we appear to be peering in on a dream. Despite the gathering emptiness, it is obvious that Jane feels a deep connection to this culture and to its rituals.
We are delighted to be showing Jane's work in our first post-lockdown show. Whilst I have no wish to link these works to the pandemic it is, for the time being, impossible not to see images of spaces devoid of people without thinking of the isolation that we have all shared over the last year and the work has a particular resonance for many.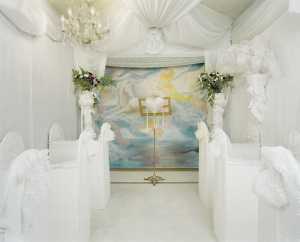 Jane has exhibited internationally, recent solo shows include LA Gun Club, Eleven Gallery, London (2016); American Cowboy, Nailya Alexander Gallery, New York (2015); Jane Hilton's America, Schilt Gallery, Amsterdam (2014); and group shows The Scarlett Muse, Daniel Cooney Fine Art, New York (2016); The Future Can Wait, Charlie Smith Gallery, London (2014).
She was awarded an Honorary Fellowship of the Royal Photographic Society in 2014 and most recently chosen as one of the 'Hundred Heroines' representing internationally the most inspirational women in photography today. Her work has appeared in numerous major publications like The Sunday Times Magazine, The Telegraph Magazine and FT Magazine.
For Better Or For Worse is on at Solaris, 76 Norman Rd,Saint Leonards-on-sea, TN38 0EJ until 31 July; solarisprint.co.uk