"I DON'T SLEEP too well these days," Valérie Messika admits during our interview. "Now my brand is not so small…" She pauses, playing with one of her trademark double rings – the same piece of jewellery that first thrust her into the public consciousness.
There are many ways to describe the most exciting diamond brand on the planet: Cool? Yes. Disruptive? Certainly. Small? Well, maybe once – but not since Beyoncé, Rihanna, and other mononymous celebrities draped Messika over their beautiful bodies and turned this Parisian boutique into an overnight sensation.
It's been a shade over a decade since Messika the woman turned her lifelong passion into Messika the brand, but her star has risen at a rate scarcely believable in an industry ruled by the historic houses of Bond Street and Place Vendôme.
Her free-and-easy style, female-positive marketing and contemporary approach to design have added a new sparkle to the somewhat fading light of the diamond sector. But having convinced the young (or young-at-heart) crowd that these precious stones can offer the same freedom of expression as, say, the latest coveted pair of Balenciaga trainers, there's pressure on Messika to continue its appeal to a traditionally untraditional demographic. It's enough to cause anyone to miss out on precious shut-eye.
"I'm very proud of what I've achieved, but I don't want to disappoint, I have to keep going." Messika speaks with that particular form of unquenchable thirst you only find in the world's best entrepreneurs: a restless need to create, to turn the wheel, to achieve the next goal. And like many of these business figureheads – Gates, Jobs, Buffett – she is the living embodiment of her brand.
I'm very proud of what I've achieved, but I don't want to disappoint, I have to keep going
She arrives at our interview in a quiet spot of The Connaught Hotel dressed in a leather jacket and skinny jeans. There's a stack of bracelets from her popular Move collection jangling on her wrist and, of course, those career-defining rings glistening on her manicured hands.
Messika's mission statement was to 'democratise diamonds' – to take them off the ballgowns of the red carpet and onto real women in the street. Casual chic, comfy couture, whatever you want to call it, it now comes with the jewellery to match.
BEGINNING AT THE BEGINNING
You need only spend ten minutes in Messika's company to know the future is hers to mould into the next industry-defining design. It also takes just as long to know that she's not very good at talking about herself.
"You know, it's always hard to look at yourself when you're asked why you made a certain choice in your life. Sometimes it's an unconscious thing – you keep moving forward, you don't stop to analyse!" she says, a little apologetic that she doesn't have all the answers to my questions.
What is for certain is she's full of a raw passion for diamonds that her father instilled in her from an early age.
Tunisian-born André Messika has grown into one of the most prominent diamond merchants in Europe after setting up his own company in 1972 and rising to an annual turnover of $50m.
Since 2005, however, André and Valérie have been partners: Messika Senior sourcing almost all of the diamonds used in Messika Junior's delicate designs.
It seems the apple doesn't fall far from the tree, and having grown up playing with the stones her father brought home from work, diamonds are intrinsic to the fabric of Valérie's being; as natural as the skin on her bones. It won't surprise you to learn Messika deals in diamonds exclusively – no other precious stones.
A CHANCE ENCOUNTER
Valérie Messika doesn't have a traditional training in the craft of jewellery – a fact that makes more sense when you consider she first worked with her father travelling the world as a diamond dealer after studying marketing and communications at university. But having spotted a gap in the market for a brand in between high jewellery and lower-end pieces, she took her idea and ran with it.
Her small boutique was slowly gaining traction, but it wasn't until 11 October 2014 that everything changed.
Beyoncé, who was staying at Le Royal Monceau hotel, spotted Messika's jewellery in one of the display cabinets in the lobby. Long story short, one Instagram post later – the most famous female artist in the world pointing at the Mona Lisa wearing a diamond Glam'azone ring – and Messika blew up.
What was this ring on Beyoncé's finger? Who and what was Messika? Where can the jewellery be found? The world wanted to know – and when it found out, it wanted more. The company's turnover increased by 30% in 2015, 40% in 2016, and by 2017 the business had turned over more than €100m for the first time. These days, Messika employs over 200 people worldwide as global domination beckons.
Beyoncé may have famously sung "if you like it, then you shoulda put a ring on it". When it comes to Messika, why stop there?
How would you describe the journey you've been on to this point?
It sounds obvious to say, but everything starts from childhood in your life. When I was a kid,
I was a bright little girl and I wanted to impress my father because I was proud of him – he's a very smart guy and we had this connection through diamonds.
I used to put diamonds on my skin when my father brought stones home. It was quite unconscious, but when I launched my brand I wanted to create this same feeling – diamonds are already beautiful so I wanted to connect them to the skin with as little gold as possible.
Traditional jewellery brands would consider the mounting of the stone an integral part in linking together the diamond and the wearer. The mounting was usually high to showcase the stone as much as possible, but when I launched my brand I did quite the opposite.
If I had studied from the jewellery side of things, I would never have broken that code in terms of manufacturing the diamond, but I did it because I didn't have that traditional training – I just knew diamonds.
The making of a masterpiece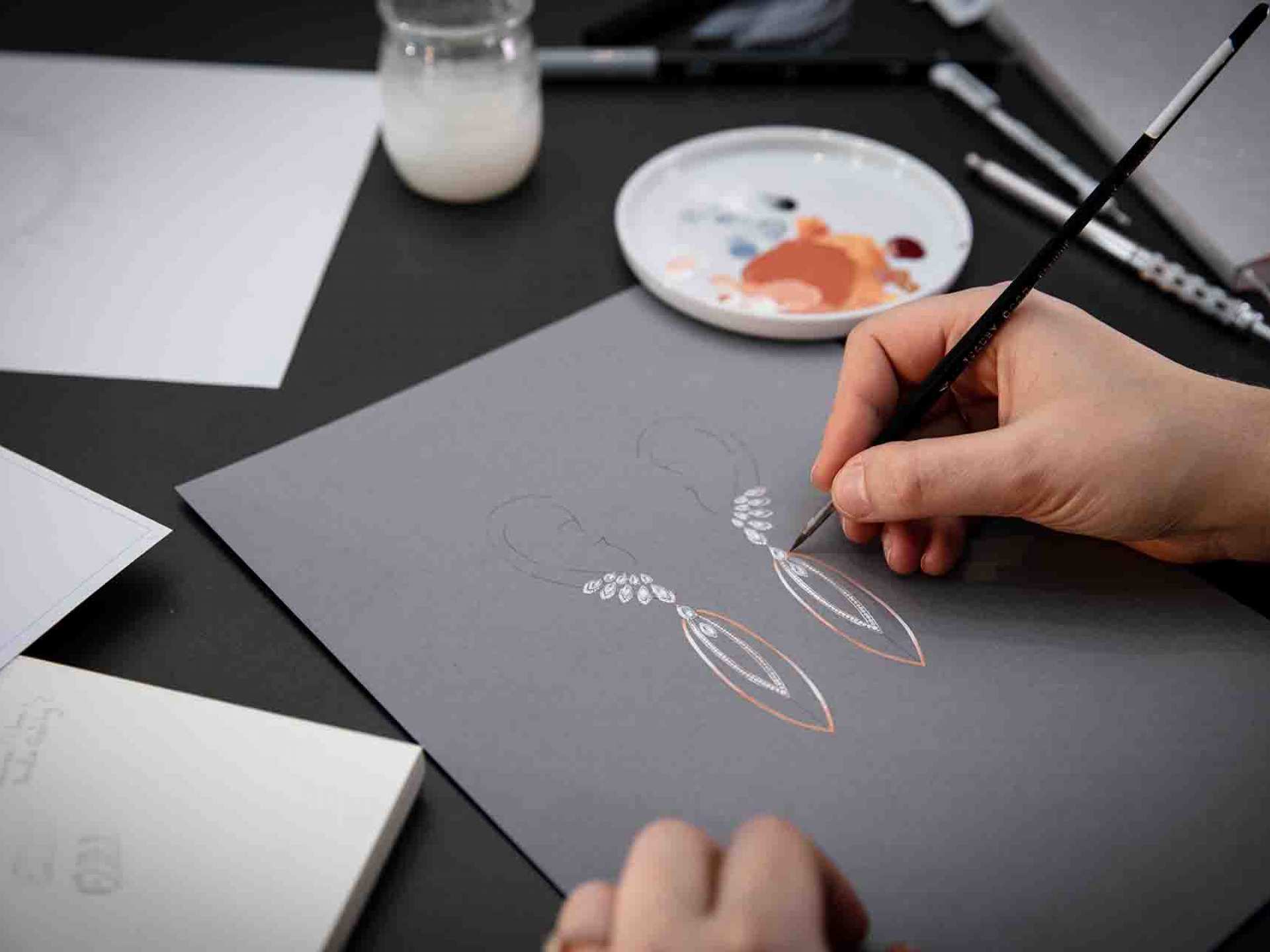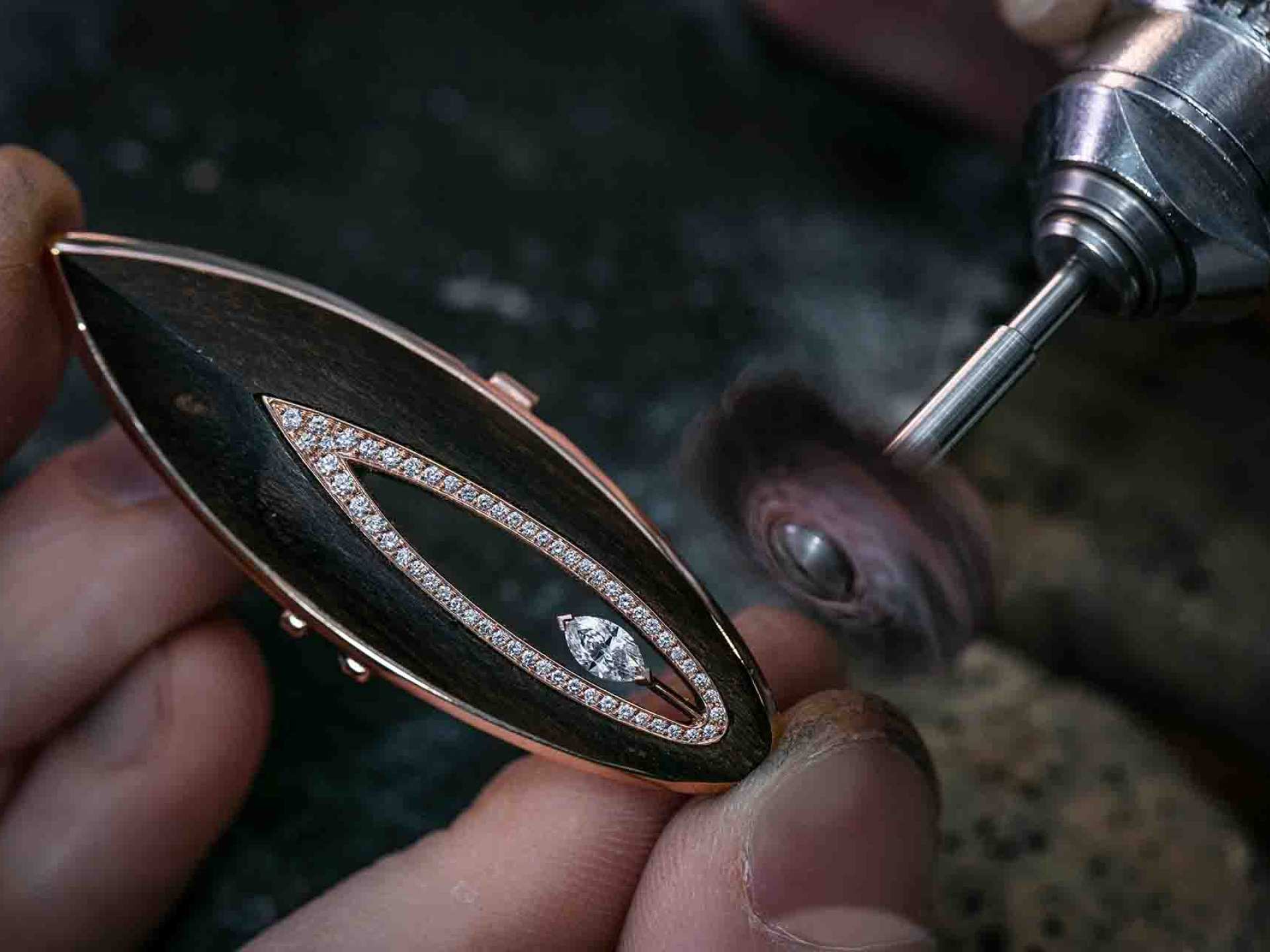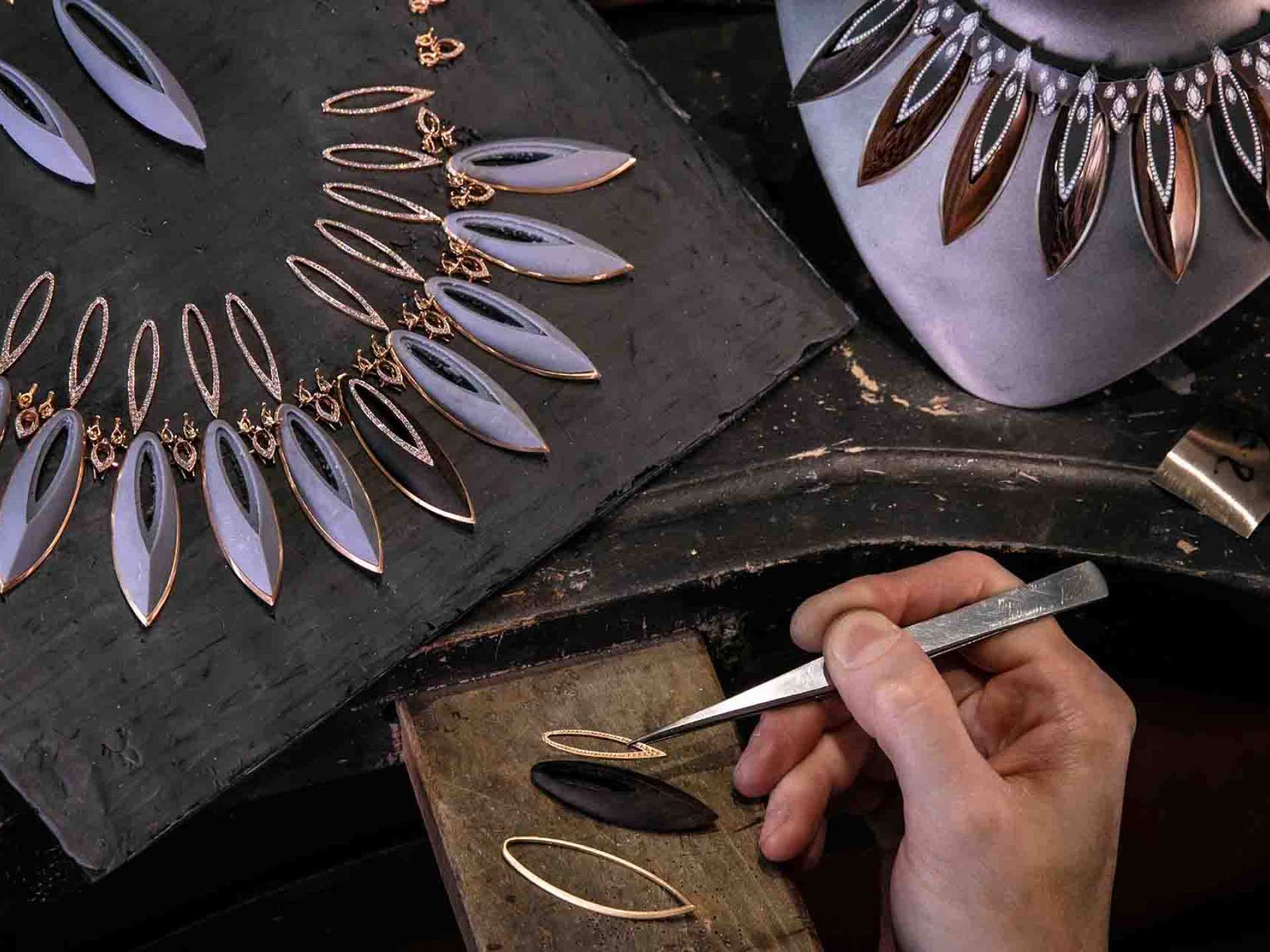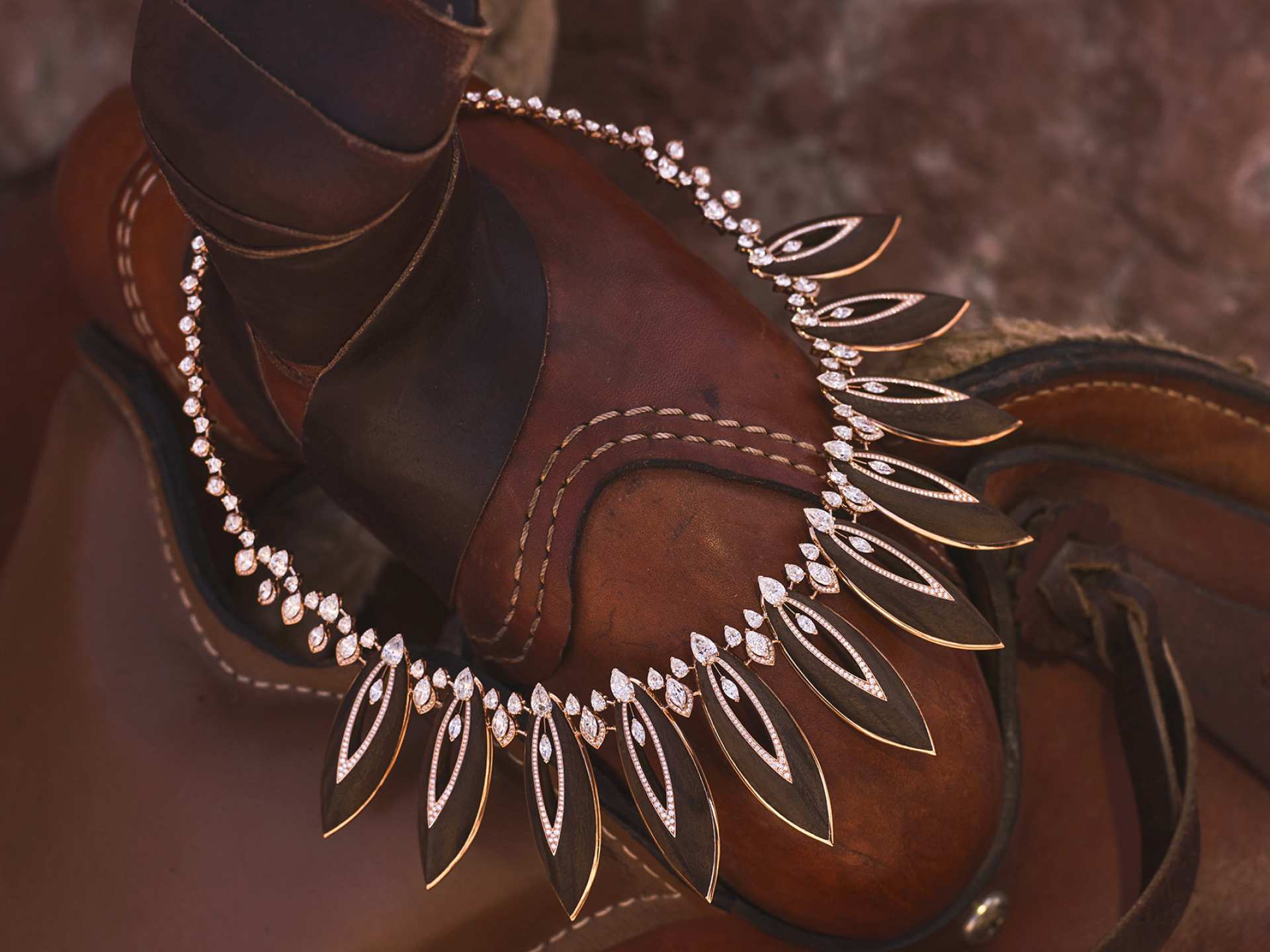 What sets you apart from the more established jewellery brands?
In 2005, nobody was talking about jewellery the way we do today. You know, I remember the De Beers campaign 'a diamond is forever' and it was all very classical music and the way they promoted the diamonds was so dated. At 20 years old, I used to ask myself, 'why can't diamonds be cool?'.
So, first of all, we differ in the execution of our jewellery. It's something modern, very sharp, very edgy, but there's also something simple at the same time. It's always a balance between the new and something that is quite timeless. Diamonds are very pure, but the way I'm executing them makes something different. I launched what I call 'new jewellery' – the mono earrings, the ear cuff, ear climbers – and now I can see so many other designers creating the same thing.
Second, I'm very involved in the advertising campaign, everything that involves communication I am quite obsessed with – because I love that, and also I really understand clearly that if I want to build my brand everything is about details and everything is also about image.
In the jewellery industry, advertising used to focus on the product, because the jewellery and the brand is connected. Women were another story – they didn't want to disturb the power of the brand by adding a face. It was one of my main points of difference to other brands because I added women to my advertising campaigns.
Where do your ideas come from?
I never have ideas in my office sitting down; it could be out in a restaurant and I see something and get an idea. I like to say that eyes are like the gymnasts of creation – the more you train yourself, the more you are inspired by what you find in everyday life.
My style is always this idea of breaking the jewellery codes in search of something more cool. You know, this ring [she points to the Glam'azone double ring on her finger] is a style I launched in 2007. I connected the two rings with a chain to bring in this idea of
multi-use. It's about making jewellery more playful, it's as simple as that.
Speaking of the Glam'azone ring, tell us about Beyoncé and Messika…
I wasn't famous at the time when Le Royal Monceau called my office asking me to show Beyoncé my jewellery. I thought it was a joke! I went down, showed her around, and gave her this full diamond ring as a gift.
Honestly, I thought we'd never hear about it again, but four days later when she hired out the Louvre museum she took the picture of herself pointing at the Mona Lisa. It was very organic: she was just in Paris with her family and liked my jewellery.
The story didn't stop there either because five or six years after, she selected a piece of Messika high jewellery for her music video for 'APES**T' shot in the Louvre. So again I have another image of her wearing Messika in front of the Mona Lisa. I have a few money-can't-buy moments in my career thanks to Beyoncé.
I try to ask stylists the reasons why they select our jewellery for their clients, and they often tell me the same thing: there's a coolness about wearing Messika, while also being high-end. I must say, when you used to wear diamond jewellery, you looked like an old lady – it definitely aged you. That is certainly not the case with Messika.
Is this part of your launch statement of democratising diamonds?
Democratising in terms of pricing, but also in terms of styling. At the end of the day, we have to capture the attention of the new generation. When I was younger, I didn't care about high jewellery or diamond pieces, but when I realised that I was catching the attention of the younger generation, I knew it was a sign that the jewellery, the tone of voice of the advertising campaign and the brand itself were contributing to creating the right kind of image. Fashion is a big inspiration for me, so I love the fact that this new generation of young girls, who can mix and match jeans and diamonds, or sneakers and diamonds, were connecting to my message.
It's jewellery created by a woman for women. Before, when I looked at the brands that were on the Place Vendôme, it was only men who designed these pieces, and men who were directing the advertising. I didn't understand why this women's industry was so dominated by men – Victoire de Castellane at Dior was the only female head of jewellery. That's why I was so lucky to already be so connected to diamonds, so I could break through that trend.
Is it true that you used to play with a loupe as a child?
My father used to teach me how to look inside the diamond. For those who haven't done this before, it's very good because it trains your eyes to look inside the details.
When you look inside a diamond, you train yourself to really see all of the details – and when you want to build a successful brand, you have to look at all of the details in the luxury world even more.
Do you think women should feel more comfortable wearing diamonds?
I'm obsessed with women feeling more comfortable when wearing diamonds.
I remember when I did my first Cannes Film Festival, Alexandra Lamy [former wife of Oscar-winning French actor Jean Dujardin], was telling me that what she loved about my pieces is that you forget you are wearing £500k worth of jewellery because it just sits so well on your skin that you behave more naturally. You feel more self-confident, more feminine.
I think it's all about understanding the details of the manufacturing rules.
Born to be wild
Tell us about Messika's new collection, Born To Be Wild…
I was obsessed with finding a new subject for my jewellery that wasn't used too frequently. I wanted something rough, something that wasn't too sophisticated, and I found the idea of putting diamonds in the desert so cool – I absolutely love the contrast.
When I was visiting Las Vegas, I stopped at the Grand Canyon for inspiration. I fell in love with the colour, with the roughness of the valley. I just thought that it was the perfect place to wear diamonds.
The use of Ziricote wood looks great…
I allowed myself to use new materials as part of this collection. Wood for me just seemed
like an obvious material when I started to think about the desert. What I really love about it is the matte finish – it's natural, and the contrast is very elegant.
There's something about the natural materials, wood and diamonds, that works
so well with the way you wear it.
You have called Kate Moss your inspiration. What do you admire about her?
I love Kate Moss because I grew up with her. She is so magnificent, like a diamond: she is always sexy and feminine, but she is never – how you would say – too much.
She is a woman that can have something very classic on her and it will still look super modern. She's very small for a model and wasn't expected to be so successful. I love the fact that she is not a stereotype but she became an icon. I love her for that.
I admire so many different women. Beyoncé, of course, also Charlize Theron, and Grace Kelly. I always say that part of Messika's success is that when you wear it, it's not like you're putting a logo on a woman – it's the woman who brings her whole attitude and sexiness to my jewellery.
What does the future hold for Messika?
What I love with Messika is that I can make decisions very quickly and can act with freedom, so I hope as time goes on I won't have to change that.
My ambition is to be the diamond specialist known for creating cool, multi-generational jewellery in different parts of the world. I've followed my instincts so far and I've done OK, so hopefully the future will be the same.
For more information about Messika and its latest collections, see messika.com