Robert Tateossian may be known as the King of Cufflinks now, but he started his career in the City. He studied finance and international relations at Wharton before joining Merrill Lynch in London.
He was working in international syndications, which basically meant helping corporates and governments raise money in the Euromarkets. "Being fluent in seven languages, I was put in charge of anything that was 'exotic' – at the time that meant Southern Europe, the Middle East and Africa, as more senior bankers preferred to deal with AAA accounts," Tateossian tells square mile.
At the age of 23, he was travelling around the world meeting with governors of central banks, doing roadshows for American CEOs and offering syndications to banks all over the world. It was an incredibly stimulating start to his career, but all this travel gave him an idea that would make him leave the City forever.
We caught up with Robert at a milestone moment for his eponymous jewellery and accessories company – its 30th anniversary.
Square Mile: What did you learn from your time in the City?
Robert Tateossian: Discipline was critical. I was working long hours, but I still needed to be able to come to the office fresh the next morning. I would double and triple check all my figures and emails – the name of my bank was on every piece of correspondence, so no mistakes were allowed.
Interacting with high-profile executives gave me the confidence to do business at any level of the corporate ladder. Working in syndications, calling banks around the world to offer them to be part of a deal enabled me to hone my sales technique, especially to cold audiences, which was really useful later on when building my business. 
SM: Why did you decide to leave finance?
RT: There were a multitude of reasons. I had been in my job for seven years, which was my first job straight out of university. I wanted to be an entrepreneur, I wanted to be in fashion, I wanted to travel the world even more extensively, and I identified a niche in the market in the cufflinks category. 
SM: Did you have any connections to the world of jewellery? Where did you begin with launching the business?
RT: I had no connection whatsoever to the world of jewellery. I had never even taken a course in fashion or jewellery making. I launched Tateossian from the living room of my flat in London.
It all started while on a trip to Thailand. While on a guided bus tour of factories in Chiang Mai, we ended up in a silver factory. During the visit, my eyes fell on a box containing a large selection of silver cufflinks. I bought the entire box as they were being offered for $2-3 a pair. I brought them back to London, packaged them in nice boxes, offered them to the buyer at Harrods and they immediately sold out. The rest is history…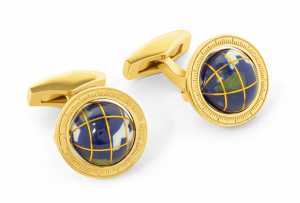 SM: What sets Tateossian apart?
RT: We have been 'outsiders' in the jewellery industry, as our approach is non-conventional and I don't come from a jewellery background. My motto has always been that our pieces need to be different – I'm always telling my team and the workshops that we need to do something that has never been done before. There are plenty of talented jewellers out there, and there's no point creating something that already exists. 
From the beginning, I wanted to focus on a niche and be the best in the world. I hope I managed to achieve that in the world of cufflinks. Over the years this has evolved to include bracelets, and today we have a full line of men's and women's jewellery. But we are always striving to improve year after year.
SM: When was the first time you thought, 'wow – this business is actually going to work!'
RT: I am quite conservative by nature and am always worried about what will happen next month – so even 30 years later, I have moments of anxiety. Especially when I'm responsible for more than 50 employees.
However, the moment that I realised I was not going back to banking, and was going to persevere with Tateossian was probably in Sehm, Paris in the mid 1990s, when I looked at our booth mobbed by international buyers waiting to place their order. We had clients from Tokyo, Hong Kong, Dubai and Moscow.
SM: What's been your biggest success?
RT: Building a profitable business from scratch with a distribution network of more than 500 prestigious boutiques and department stores across 40 countries, all while operating the business independently.
SM: What's your personal favourite product Tateossian has ever made?
RT: I have always loved pieces that have an element of movement, so I have to choose the globe cufflink, which is one of our signature pieces. It encompasses the element of fun combined with beautiful craftsmanship.
SM: And from the current line-up – if you were to walk into a store now and pick something up…?
RT: Any piece from our mechanical collection. Our square gear cufflink has become our most iconic design, but I love all the mechanical pieces – gears that rotate at the touch of a finger, or revamped skeleton watch movements as cufflinks.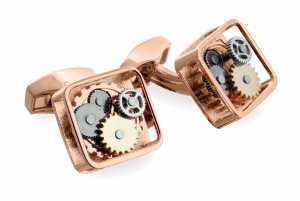 SM: What challenges do you expect your sector to face over the next few years?
RT: It will be interesting to see how consumers shop in the future. I'm concerned about the gradual demise of traditional retail, as online keeps gaining momentum. However, nothing will ever fully replace admiring a beautiful piece of jewellery in person.
SM: Where do you see Tateossian in a decade?
RT: I see Tateossian as a premier jewellery brand for men and women, with a strong online presence in key markets around the world – providing each territory with a very localised experience, using local language, local fulfilment and catering to local tastes. Ideally I would also like to have a physical store presence in key cities around the world.
Last but not least, I would like to ensure that ten years from now all our processes are fully sustainable – a journey that we have already embarked on.
SM: What's been the toughest lesson you've learnt in business?
RT: No matter how much you try to control your environment, things change. You can see your favourite brand in a store for a decade, until a new buyer comes along who doesn't like the line and decides to stop buying from you. Even after all the years of dedication to the client, the sales staff, and a huge investment in time and energy with the store. Overnight everything is gone. It's a very difficult reality to accept, especially at the beginning. 
Thankfully this has not happened frequently, and in most cases the position is reversed when the new buyer leaves. The important thing to realise is that this is not a reflection on you, or your brand. Buyers come and go, but you need to be true to yourself.
SM: What brand or designer would you like to collaborate with?
RT: We currently have the licence for Ermenegildo Zegna, Zaha Hadid and Elton John. We have worked with MCM, Canali, Paul Smith, among many others. I always welcome collaborations. Perhaps next time I'd like to work with a tech brand such as Apple or a sports brand such as Nike.
SM: What's next for Tateossian?
RT: I would like us to continue our growth, increasing our turnover and our global distribution, despite the challenges from exogenous factors, be it Brexit, coronavirus, or the war in Ukraine.
My hope is that this journey is one where this growth is achieved in a more 'green' way – being conscious of employee welfare, the environment, and making our contribution so that the world is a better place. 
Lastly, to continue creating pieces of jewellery that are innovative, beautifully crafted, and that will bring joy to the wearer for many decades to come. 
For more information, see tateossian.com