You don't have to travel too far back in history to find a time when watches were an indispensable tool for professionals across the globe – not just a status symbol, or the final touch to an outfit. 
Whether you were a diver or a pilot, a globetrotting business or a race car driver (we wish…), watchmakers were making genuinely innovative technology not just available, but as convenient as possible. Tap a button or two here, twist a bezel there, and it might even save your life in a crisis. 
The definition of what constitutes a tool watch is a bit murky – especially as less and less do we actually wear them for their intended purpose – but if you ask us it comes down to a timepiece that can complete a specific task, while also being tough enough to handle whatever life (or you) can throw at it.  
These are your Swiss army knives: should the apocalypse arrive in full force tomorrow, you're going to want one of these on your wrist.
Discover the tool watches in contention for this year's award below…

Bell & Ross BR 03-92 Diver Full Lum
Bell & Ross is perhaps not the first name in dive watches, nor does it boast the rich history of some of its competitors, but this one-time university project created by lifelong friends Bruno Belamich (Bell) and Carlos A. Rosillo (Ross) in 1992 continues to impress for its variation on this popular watch style. Back in 1997, the brand launched the Hydromax – an oil-filled quartz watch with a world-record 11,100m water-resistant case – to high acclaim, before dedicated mechanical dive watches followed.
The BR03 is one of the newer additions to the Bell & Ross range translating the brand's unique 'circle within a square' case into a unique dive watch design. This new version is its most illuminating to date – quite literally. It features two types of Super-LumiNova, one for the whole dial and another for the markers, to create a watch that lights up like a Christmas tree at night. It's a great twist on one of the more practical aspects of dive watches; visibility in low-light conditions.

Breitling Chronomat
The Chronomat was always a bit of a marmite watch. In spite of its various practical applications and the fact it pre-dates many similar chronograph collections (the name dating back to 1941, the collection to 1984), it has lived somewhat in the shadow of its brother the Breitling Navitimer for decades. That may be about to change, however, thanks to a wholesale design rethink that has led many to conclude this is one of the standout timepieces of 2020.
Particularly noticeable is how much more integrated the 'rider tabs' are within the dial, resulting in a watch that feels incredibly elegant and sporty – and, perhaps more importantly, a lot less chunky and cumbersome than previous iterations. The Rouleaux bracelet is equally pleasing, especially when paired with the salmon-dialled version.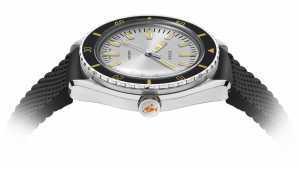 Doxa Sub 200
Diving fans may be surprised to learn that their beloved Doxa watch can trace its history back to 1889 when it was founded by Georges Ducommun. In fact, Doxa was much like any other brand in its early days – creating dressy timepieces for gentlemen – however it soon crafted a reputation for being on the cutting edge of watchmaking. In particular, its eight-day calibre, patented in 1908, became the industry standard for dash-mounted clocks in automobiles and planes.
It wasn't until 1967 that Doxa would focus its attentions on the world of diving, but its iconic Sub 300 would soon grow into a rival for more established collections like the Rolex Submariner and Blancpain's Fifty Fathoms – thanks partially to the famous French oceanographer Jacques-Yves Cousteau, who wore the watch in a host of his documentaries. World renown soon followed. 
The Sub 200, recently relaunched, is a more classic take on a dive watch than the quirky Sub 300. Given the price point and rich brand history, it's an incredibly appealing tool watch proposition. 

Frederique Constant Flyback Chronograph Manufacture
Few watchmakers on the market can best Frederique Constant when it comes to offering tricky complications at accessible price points. This in-house flyback chronograph is the perfect case in point: first released in 2017, it was a shock to see this kind of watchmaking available for less than £4k. 
New for this year is a totally revamped design that dispenses with the previous dressy and vintage aesthetic (which admittedly would be difficult to feature on this list) in favour of a much more sporty and contemporary look that we think is much more fitting of this brand's forward-thinking outlook.  

Grand Seiko Hi-Beat GMT SBGJ237
There will be some portions of the watch fraternity scrunching up their faces at the inclusion of a GMT in the tool watch shortlist category, but we say unto you: what's your problem? Here we have the perfect companion for any globetrotter, wrapped up in a resilient package. So there. 
Grand Seiko are, of course, the more artisanal branch of Seiko's Japanese watch empire, but their tool watches are easily some of the best examples you'll find anywhere on the market – and usually at a more than acceptable price point. This new GMT combines the useful combination with an excellent 200m of water resistance, a sapphire crystal bezel, and a 24-hour scale that features the watchmaker's proprietary Lumibrite lume. Underneath the ruggedly handsome exterior is a hi-beat movement made to GS's typically meticulous standards. If you ask us, this is some tool.  

IWC Yacht Club Moon & Tide
The Yacht Club collection dates back to 1967, back when the marina was the home of the well-dressed, sexy, social elite. Those days may have been and gone (thanks to the boomer generation for that…), but the magnetic pull of the sports watch remains as strong as ever.
In IWC's case the Yacht Club has bounced around several homes over the year but, since 2010, it has existed as a member of the Portugieser collection. It makes sense given the latter's own nautical connections – born in 1939 out of request from two Portuguese navigators for a marine chronometer in a wristwatch format.
The Yacht Club Moon & Tide bundles these nautical inspirations into a rose gold case and sunburst blue dial, with a tide indicator for good measure. IWC has modified the double moonphase often found on its perpetual calendars to display spring and neap tides – therefore providing information about the strength of the current tide. Spring tides (which bring high water) occur at a full moon and new moon; track the moon, and you'll know the current tide, simple. At six o'clock, a second indicator displays the height of the tide, too.
As tool watches go this is probably as niche as you're likely to find anywhere. All the same, though, we can't help but appreciate IWC's moxie here: this out-of-the-box creation is a lot of fun, even if we don't own a boat. 

Jaeger-LeCoultre Polaris Mariner collection
There's the Rolex Submariner, the Doxa Sub, and now there's the Jaeger-LeCoultre Mariner: three completely distinct collections, joined by a collective love of the ocean… and some unimaginative naming. The Polaris Mariner, to use its full name, is a reimagining of JLC's Memovox (launched 1950) and Polaris (1968) collections. It brings a modern edge to some of the famed watchmaker's more heritage-focused timepieces, while maintaining a connection with the past. 
The Memovox in particular was a niche member of the tool watch spectrum when it first launched, thanks to its alarm-based signal (shown at the very centre of the dial) for warning divers it was time to return to the surface. This new watch shares much of the design language of the original, but brings it up to modern times with splashes of vibrant orange and brilliant blue, and a fine-looking steel bracelet. Available in alarm and non-alarm versions, this is one diver with a difference.

Omega "Silver Snoopy Award" 50th Anniversary Snoopy Speedmaster
There is perhaps no horological collaboration as famous as Omega, NASA, and Snoopy. The Speedmaster, the watch that won the race to be the official watch of the space program, is famous for being the 'watch that went to the moon' – a watch so reliable that it could work in deep space.
Snoopy's role in the story was a little more serendipitous: the Peanuts star became something of a symbol for the USA's obsession with space exploration after Charles M Schulz created multiple images of the beagle on the moon. By 1968, the Snoopy-NASA association was made official – the agency introducing the Silver Snoopy Award for achievements in the field of human flight safety and mission success, a prize that is still awarded to this day.
This brilliant blue rendition commemorates the 50th anniversary of the Silver Snoopy Award, with plenty of little easter eggs for fans of Snoopy and NASA.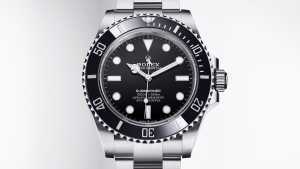 Rolex Submariner
What more is there to say about the Submariner than you already know? Think 'Rolex' and this immediately recognisable design is probably the first that pops into your head: the ceramic bezel insert with the saw-tooth edge, the 'Maxi' dial (the large lume-filled markers), the cyclops date aperture. In fact, think of any watch at all and you'd be hard-pressed to recall anything but a Sub. 
As one of the few watch designs to have transitioned into popular culture, you could forgive Rolex for adopting an "If it ain't broke, don't fix it" mentality when it comes to its most iconic icon. In one sense, that's exactly what's happened with the subtle round of changes in the 2020 collection, but at the same time there's also palpable growth here from one rendition to the next.
For the most part, yes, this is the same Submariner you know and love, however a larger 41mm size coupled with a few clever tweaks to the case have made this watch more wearable than ever. Add to that a top-class new movement underneath the hood and the super Sub has just got better. 

TAG Heuer Carrera Sport Chronograph 44 mm Calibre Heuer 02 Automatic
The Carrera is undoubtedly Tag Heuer's golden child; its perfect offspring that can simply do no wrong. The design, the history, the racing association, it has that all-important cocktail that leaves collectors clambering for those coveted early references.
The very first edition reference, the 2447S ('s' for silver, naturally), is probably the greatest of them all – and is here brought back to life to celebrate 160 years of Tag Heuer.
There are a couple of modern dispensations in the form of a slightly larger case size, sapphire crystal, and a brand-new Heuer 02 automatic chronograph movement, otherwise you're looking at the same silver fox that beguiled watch fans at its launch in 1964.