It's truly astonishing what watchmakers have achieved throughout history. 
They've created timepieces capable of withstanding extreme environments, movements that can measure a period of time and the phases of the moon, and watches so slim they are no 'thicker' than a two-pence piece – all within a product that handily sits on your wrist. 
The advent of digital technologies may have all but surpassed the capabilities of horology, but this is not to say that watchmaking has stopped innovating – far from it.
In 2020, as in previous years, watch lovers have been spoilt by a host of technical marvels that push the boundaries of micro-engineering. 
Meet this year's contenders for the Technical Innovation award… 

Accutron Spaceview DNA Electrostatic
The unbridled love for Bulova's original 1960s Accutron watches in recent years has seen the concept spin-off into an entirely distinct brand this year with some impressive technology. Bulova has developed an all-new electrostatic movement (a genuine first for watches) which sees two turbines spin as the watch moves on the wrist (much like an automatic watch) generating an electrostatic charge which is stored in an accumulator, this then powers an electrostatic motor for the smooth-sweep seconds hand and a stepper motor for the minutes and hours.
The Accutron watches of 2020 also pay tribute to the 'Spaceview' watches that were originally sent out to retailers as demonstrator models with open dials so they could explain to customers how the watches worked.

Armin Strom Gravity Equal Force
Constant force is the holy grail of watchmaking, the theory being that if a watch's mainspring supplies a movement with a constant level of torque then the regulator has a better chance of keeping good time. Unfortunately, unwinding springs supply more force when they are fully wound than when they are nearly depleted.
There have been numerous, fiendishly complicated solutions to evening out this power but Armin Strom appears to have just invented one of those 'so simple, it's genius' ideas. Instead of dealing with the force once it has left the mainspring barrel, Armin Strom's Equal Force concept applies a clutch inside the barrel itself, keeping it wound to an optimal level where the power output is closer to constant.

Bernhard Lederer Central Impulse Chronometer
Until the advent of micron-precise silicone manufacturing techniques at the start of the 21st Century Breguet's Natural Escapement was an itch that watchmakers couldn't resist scratching. The original idea was to remove the notoriously unreliable lubricating oils (usually animal based) of the 18th Century from the escapement to stop it slowing down or gumming up altogether but cracking the Natural Escapement became something of a challenge, a horological sword in the stone, as Breguet himself couldn't even industrialise the idea.
Bernhard Lederer's CIC builds on the work of George Daniels and Derek Pratt. Lederer's watch – like Daniels' famed Space Traveller watches – is essentially two movements in one; two mainspring barrels, two gear trains and two escape wheels but, like Pratt before him, he has included a remontoire constant force mechanism on each train. The movement might also be one of the finest looking in terms of decoration and design you're ever likely to see.

Breguet Tradition Quantième Rétrograde 7597
Fitting a Breguet Tradition with a date complication (or any complication for that matter) is no easy thing. The watches of the contemporary collection take their movement architecture from Abraham Louis Breguet's 18th Century 'souscription' pocket watches, flip it over and put it on the dial side. It's a symmetrical, triangular arrangement of central mainspring with balance and second wheel each set off below on opposite sides. It's such a strong formation that any addition could easily throw it off balance.
Modern Breguet's solution was a wide Retrograde Date arc (afterall Breguet himself frequently used retrograde scales) around the lower half of the dial with a structural-looking pointer shaped to step over the movement, one that mimics a similar component from the original watch.

Bvlgari Octo Finissimo Tourbillon Chronograph Skeleton Automatic
The latest record-breaker from Bvlgari's peerless Octo Finissimo collection manages to fit a full tourbillon, monopusher chronograph, automatic winding mechanism and a useful 50-hour power reserve into a movement just 3.5mm thick (the complete watch being just 7.4mm front to back).
Here Bvlgari has ditched the usual approach of building complicated movements in layers, instead fitting everything on the same plane using a modern, skeleton construction to show how they achieved it and surrounding it with a peripheral winding rotor, which adds to the movement's circumference rather than its depth. The traditional keyless works, which allow a crown to perform multiple tasks, have been dispensed with altogether in favour of a second pusher which switches between winding and adjustment functions.

Corum LAB 02
Not only does Corum's LAB 02 include a flying tourbillon, grand date and power reserve but its watchmakers have completely revisited how a movement might be constructed. The traditional Lépine approach sandwiches its wheels between plates and bridges allowing them to be firmly pivoted both above and below but, from a purely aesthetic point of view, this hides most of the mechanism from sight. Corum's approach here is to remove the bridge from above and have all of the wheels pivoted at just one end instead.
As anyone who has ever attempted to take a watch apart will tell you, removing a bridge and the second pivot point it offers usually involves wheels spilling out everywhere. Corum has avoided this by mounting its 'flying gear train' using ball bearings rather than setting jewels, which holds the wheels firmly in place at one end.

Ferdinand Berthoud Chronomètre FB 2RE
Here Ferdinand Berthoud implements not just one but two of the fiendishly complicated mechanisms designed to achieve a supply of constant force to the escapement, an haute horlogerie case of belt and braces. First up is the fusee and chain, a conical transmission that compensates for the irregular power output of the mainspring. This is paired, for the first time, with a remontoire, a hairspring that is wound and released periodically (in this case once every second) essentially further filtering the torque before it reaches the escapement.
The FB 2RE doesn't rest on its technical laurels though, it also boasts a difficult-to-make two-level enamel dial and some of the finest movement decoration you'll see anywhere.

Girard-Perregaux Free Bridge Infinity Edition
Girard-Perregaux has had a lot of mileage from its Three Bridges heritage and much of the attention paid to its new Free Bridge is the modern interpretation of that famed geometry sitting low on the dial serving as a balance bridge. But the most interesting feature of this Infinity Edition (which receives black DLC treatment, polished Onyx plates and solid 18ct pink gold accents) is not the bridge but the large balance wheel it holds in place.
It appears to be the same (or near as damn it) high tech silicone balance wheel used in the Freak X from Kering Group stablemate Ulysse Nardin which uses integrated micro blades to generate air resistance to stabilise the balance wheel's back-and-forth oscillations thus improving timekeeping.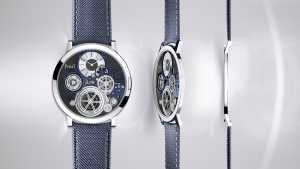 Piaget Altiplano Ultimate Concept
Piaget's latest approach to ultra-thin watchmaking dispenses with the idea of a separate movement altogether, instead milling out the caseback and building the mechanism directly into the case. This created a watch so thin (stack two sheets of A4 paper and you'll see how thin the sapphire crystal is) that it risked bending when worn on the wrist; Piaget avoided this by making it from a particularly rigid cobalt alloy.
Not only does the Altiplano Ultimate Concept represent an incredible technical watchmaking feat but it is almost entirely customisable, with around 10,000 possible colour combinations available.

Richard Mille RM72-01
You'll certainly have heard of Richard Mille but you might not know that, until now, most of the revolutionary watchmaking inside its cases has been produced by third parties. The RM72-01 Lifestyle Flyback Chronograph features Mille's first entirely in-house movement, the CRMC-1, and as such needed to develop something special.
Chronograph mechanisms sit inactive and unpowered until the pusher is depressed. At that point a clutch engages the chronograph mechanism at a single point with the wheels powering the timekeeping mechanism, which then drives it. This can be something of a shock to the system and affect timekeeping performance. Richard Mille has spread the load using a completely unique double tilting pinion system which engages at two points at either ends of the movement, spreading the load.