Let's get one thing straight: in the modern day, any watch is unisex. Whether it's women wearing bulky 'masculine' pieces or men who enjoy brightly coloured or diamond-encrusted jewellery, very few watches carry with them a particular gender. 
That being said, it's important to remember that women's watchmaking is integral to the history of the wristwatch – in fact, if you go back some 200 years, it is largely recognised that the first timepiece designed for the wrist was created for the Queen of Naples, Napoleon Bonaparte's sister, in 1812.
Centuries may have passed since then, but the watch remains a unique canvas on which to express femininity, and that's something we think should be celebrated.
This year's shortlist does not merely credit the ornamental. At the core of each of these five designs is an artisanal craft – and some of the finest, most ingenuous watchmaking you'll find anywhere in horology. 
Meet this year's contenders…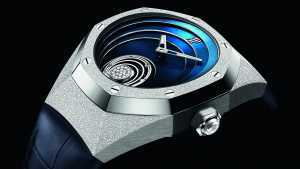 Audemars Piguet Royal Oak Concept Frosted Gold Flying Tourbillon
The porthole bezel of the Royal Oak, debuted in 1972, is one of the most recognisable design silhouettes in all of watchmaking – but it's never looked quite like this before. 
This flamboyant women's variant begins with a 38.5mm gold case that features a striking frosted finish (developed in collaboration with Florentine fine jeweller Carolina Bucci), then comes the concentric oval steps of lacquered blue dial that walk you down to a flying tourbillon (studded with a 19 brilliant-cut diamonds, naturally) at six o'clock that also features an oval-patterned tourbillon cage.
A prototypical women's watch may be seen as a dainty piece of jewellery, but this incredibly fun concept has received the full bore of AP's horological capabilities, blended with one of the iconic designs in watchmaking full stop. It's a match made in heaven. 

Cartier Maillon de Cartier
There are few brands on the planet that capture the art of femininity quite like Cartier – its latest collection is case in point. Maillon, translating as 'link' in French, transforms the sporty DNA of Cartier collections like the Tank into a finely crafted cuff watch that just screams eveningwear. 
Yes, on the inside you'll find a Quartz movement, but that befits a case size that its just 16mm x 17mm. But, in typical Cartier fashion, this watch is imbued with an elegantly retro feel that is incredibly appealing. 

Seiko Lukia collection
The Lukia collection has existed in the Japanese domestic market for some time now, but the watchmaker's decision to take it worldwide speaks something of the continued growth of this brand.
It should come as no surprise to find that the Lukia is a confluence of practical watchmaking and meticulous craftsmanship – a sweetspot Seiko has made all its own. Here, we see a surprisingly sporty case bestowed with an ornate geometric-patterned dial, with an in-house automatic movement ticking along inside.

Vacheron Constantin Égérie collection
One of the first names in high-end Swiss watchmaking, when Vacheron Constantin creates an entirely new collection, we sit up and take notice – when that new collection is its first solely dedicated to women, our eyebrows are raised even further. 
The Égérie ('muse' in English) carries with it the full horological clout of any other Vacheron collection – one eye on attentive decoration, the other on the impeccable movement beating at its core – while subtly interweaving a feminine edge into its design cues. The result is a classic Swiss watch with a woman's touch.

Zenith Defy Midnight
Zenith may not have quite the background in women's watchmaking as the likes of Cartier, but here the Swiss watchmaker has pointed its sporty Defy watch collection in the feminine direction with great success. 
Steel sports watches continue to be a recurring trend in the watch world in general, so to see Zenith bring this to the women's market without losing its practical, utilitarian characteristics is pleasing to see. The three lacquered-dial variants are beautiful in the metal, while added points should be awarded for using an in-house movement.