In a world where Covid-19 has disrupted almost every aspect of our lives, there is something quite comforting about the watchmaking industry's continued output of spectacular pieces – you might call it the relentless march of time.
As such, the judging panel of this year's Square Mile Watch Awards once again had its work cut out for them choosing between our longest ever shortlist of timepieces.
Meet this year's list of industry trailblazers and phenomenal timepieces…
The Icon
Rolex Submariner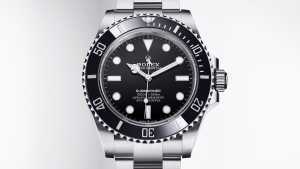 You'll only need one hand to count the number of watches that can match the Submariner for overall fame. But do any really best it: the original Bond watch, the ultimate tool watch, the banker's choice? In the eyes of our judges, the answer is… probably not.
The Submariner blends innovation and watchmaking heritage (it was first launched in 1954), with a broad presence in popular culture. The latest version sees the case grow in size slightly, while subtle design changes somehow work together to make it the most wearable Submariner ever.
Add to that an updated movement with everything Rolex can throw at it, and you're looking at one of the most talked-about watch releases of 2020.
"Oh-so Rolex – the most minor of adjustments has made the world of difference," our judges concluded. "Predictably perhaps, it is unbeatable in this category."
The label 'icon' is bandied about all too liberally, but there's no doubting the Submariner's claim.
Best Dress Watch
IWC Portugieser Automatic 40

IWC is perhaps better known for robust tool watches like the Big Pilot or for outfiting the British army during the second world war, but its dressier collections are more than deserving of plaudits, too.
The 2020 update to the classic Portugieser collection sees the Swiss watchmaker add a 40mm small seconds automatic model to its prized ranks. "It's perfect," one of our judges simply stated, speaking of the new sizing.
There's a new in-house movement under the hood to enjoy, too, while the balance of "classical elegance combined with a contemporary case size and superb value," made it too difficult to beat in this highly competitive category.
Modern watchmaking can sometimes put too much emphasis on easily marketable stories of historical references brought back to life, or new bells and whistles to make a watch more accurate. This slick IWC proves why less is more.
Best Sports Watch
Tudor Black Bay Fifty Eight Navy Blue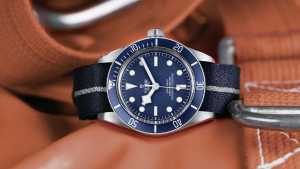 The Black Bay collection has been setting the benchmark for accessible luxury since it first launched in 2012, but the 2018 release of the Black Bay Fifty Eight felt like the moment Tudor absolutely nailed the design brief.
Here we have a modern tool watch drawing on the designs of the past, perfectly sized, featuring an in-house movement, on the market for only just north of £2,500.
We're not surprised that Tudor followed up with a new colourway in 2020, what surprises us is how different this watch feels to the launch model. Somehow the all-blue bezel and dial combinations nudges this watch away from the same vintage stylings and towards the contemporary end of the market.
"No matter how many variations exist, the Black Bay never gets boring, and this version could be the best so far," our judges detailed in their notes. This is pound-for-pound one of the best watches around.
Best Tool Watch
Doxa Sub 200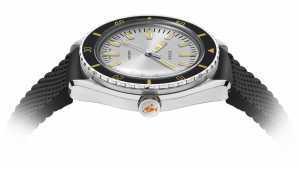 Diving fans may be surprised to learn that their beloved Doxa can trace its history back to 1889 when it was founded by Georges Ducommun. Back then, Doxa was much like any other brand in its early days – creating dressy timepieces for gentlemen.
It wasn't until 1967 that Doxa would focus its attentions on the world of diving. But its now iconic Sub 300 would soon grow into a rival for more established collections like the Rolex Submariner and Blancpain's Fifty Fathoms – thanks in part to the famous oceanographer Jacques-Yves Cousteau, who wore the watch in a host of his documentaries.
The Sub 200, recently relaunched, is a more classic take on a dive watch than the quirky Sub 300. Given the price point and rich brand history, it's an incredibly appealing tool watch proposition.
Our judges couldn't agree more: "Simply the best (as Jacques Cousteau knew all too well)."
Technical Innovation of the Year
Piaget Altiplano Ultimate Concept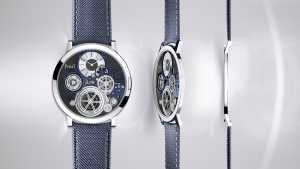 Piaget's latest approach to ultra-thin watchmaking dispenses with the idea of a separate movement altogether, instead milling out the caseback and building the mechanism directly into the case.
This created a watch so thin (stack two sheets of A4 paper and you'll see how thin the sapphire crystal is) that it risked bending when worn on the wrist; Piaget avoided this by making it from a particularly rigid cobalt alloy.
Not only does this masterpiece represent an incredible technical watchmaking feat but it's customisable, with around 10,000 colour combinations available.
One of our judges took a slightly, er, alternative view on the creation of the Altiplano Ultimate Concept: "I just imagine a Piaget watchmaker in a workshop cackling to himself: 'Another millimetre off? They said I was mad! I'll show them. I'll show them all!'" Well, there's certainly method to this madness.
Best Women's Watch
Audemars Piguet Royal Oak Concept Frosted Gold Flying Tourbillon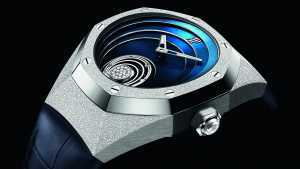 The porthole bezel of the Royal Oak, debuted in 1972, is one of the most recognisable design silhouettes in all of watchmaking – but it's never looked quite like this before.
This flamboyant women's variant begins with a 38.5mm gold case that features a striking frosted finish (developed in collaboration with Florentine fine jeweller Carolina Bucci), then comes the concentric oval steps of lacquered blue dial that walk you down to a flying tourbillon (studded with a 19 brilliant-cut diamonds, naturally) at six o'clock that also features an oval-patterned tourbillon cage.
The prototypical women's watch may be seen as a dainty piece of jewellery, but this incredibly fun concept has received the full bore of AP's horological capabilities, blended with one of the iconic designs in watchmaking full stop.
The result of this? "The most daring and beautiful women's watch in years," our judges said.
Spirit of Independence
Greubel Forsey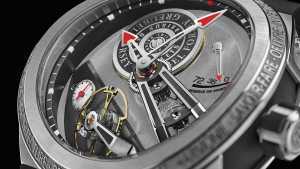 Robert Greubel and Stephen Forsey are consummate perfectionists. These two ingenious watchmakers joined forces in 2004 to create a brand that went to whatever lengths necessary to create new and exciting horological masterpieces.
With an annual production of no more than 100 pieces, thanks to each timepiece being constructed by a single watchmaker from start to finish, Greubel Forsey watches are some of the most limited on the planet, but also the most special.
In one of its most outlandish projects to date, Greubel Forsey created the Hand Made 1 – a timepiece where, astonishingly, 95% is made entirely by hand in an effort to preserve some of the dying arts of traditional watch construction.
It's a move that really impressed our judging panel: "There are a number of great independent watchmakers, but messrs Greubel and Forsey are helping keep the actual craft alive."
Industry Hero Award
Maximilian Büsser, MB&F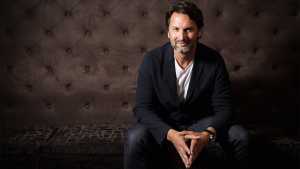 Maximilian Büsser and Friends, or MB&F to us watch fans, is a brand that seems to specialise in making people smile. It started as "a little idea of a little company" according to the ebullient founder Max Büsser, but since 2005 the independent Swiss watchmaker has created perhaps the most inventive series of watches the world has ever seen.
His 'Horological Machines', dubbed HMs, balance highly whimsical thematic imagery with an acutely technological edge – these unique timepieces may look like a jellyfish (HM07 Aquapod) or a dog (HM10 Bulldog), but this child-like wonderment wouldn't be possible without creating highly innovative movements that belie traditional watchmaking practices in order to fit their creative guises.
In a world where watches have remained largely unchanged for the best part of 200 years, Büsser has taken on the mantle of reinventing the wheel and, in doing so, brought fun with a capital 'f' to an industry that takes itself far too seriously.
Celebrating 15 years of consistently surprising the watch industry, Büsser is overdue this award as our Industry Hero 2020.
Editor's Choice & Best Heritage Watch
Audemars Piguet [Re]master1 Selfwinding Chronograph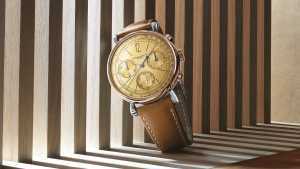 The vintage-inspired watch trend has been gaining momentum for the best part of a decade now, but that doesn't stop Audemars Piguet's first foray into this area of timepiece design being any less exciting – this is exactly the kind of sure-footed move we have come to expect from the creators of the Royal Oak.
The [Re]master01 name typifies this model's assimilation of old-school watch aesthetics and modern watchmaking: the watch itself take its inspiration from to a two-tone AP watch design from 1943, while the Calibre 4409 flyback chronograph movement is straight from the 21st century.
However, all you need to know about this watch can be seen in the image above: it's one of the most visually arresting watches of 2020.
Regular Square Mile readers will recognise this watch from previous features, so it's no surprise it takes home the Editor's Choice award, as well as Best Heritage Watch.
Watch of the Year Winner & Readers' Choice
Vacheron Constantin Overseas Perpetual Calendar Ultra-Thin Skeleton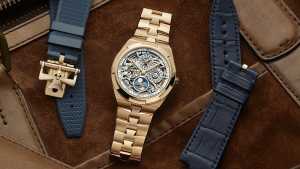 In a world where Patek Philippe's Nautilus, AP's Royal Oak, and Rolex's Submariner (or any Rolex sports watch, really) have waiting lists backing up years into the future, it seems unfathomable that the Overseas collection from Vacheron Constantin continues to be under appreciated.
The Overseas Perpetual Calendar Ultra-Thin Skeleton might change that; a watch that not only bowled over our judges but you, the readers, too. Here we have a striking sports watch design – the octagonal bezel, the Maltese Cross-inspired bracelet – that blurs the lines between haute horlogerie and sports casual.
It's then paired with an ultra-thin case and a spectacular perpetual calendar to create what our judges deem "Quite simply one of the most technically brilliant watches of the year, as well as being stunningly beautiful and ultimately wearable." Remind us again why you're waiting in line for that Nautilus?