What does it take to be named Watch of the Year? In the third year of the Square Mile Watch Awards, our judges are beginning to build a strong picture. 
For starters, it takes a striking design that balances modern sensibilities, with a timeless edge. 
Under the hood must beat a movement of scrupulous construction and decoration. Perhaps it takes a step forward in watchmaking innovation, or maybe it simply perfects a classic.
It's a piece that watch lovers unanimously wish they could strap onto their wrist – that draws the eye in a room full of great watches.
There's style, sex appeal, the X-factor; a certain something that transforms a product that simply tells the time into a ticking work of art. 
Watch of the Year isn't just about being the best of the releases in a given year, it's about creating something that will persist for decades to come. 
Meet this year's contenders…

Audemars Piguet [Re]master01 Self-Winding Chronograph
Little more needs to be said about this masterpiece than simply directing you to the picture above: look at it, it's a stone-cold stunner. Possibly this year's single most beautiful watch also signals Audemars Piguet's entrance into the world of vintage-inspired models.
As the name suggests, however, this isn't just a carbon copy of an old blueprint – it's an old-school 1940s chronograph reimagined for modern tastes. Fingers crossed the Swiss watchmaker persists with a series of [Re]master watches as this has simply whet our appetite for more. 

Bvlgari Octo Finissimo Tourbillon Chronograph Skeleton Automatic
As each year rolls by, the world records keep coming for what is surely one of, if not the, most innovative watchmaking outfit in operation today. Bvlgari has been stubbornly focused on its desire to break boundaries through its Octo Finissimo collection, and that approach has paid off with a series of ultra-thin watches quite unlike anything else on the market today: they are an icon unto themselves.
The latest addition to the ranks is one of the more unusual: the flattest tourbillon chronograph wristwatch ever made. Who else but Bvlgari could squeeze a tourbillon and a monopusher chronograph into just 42mm x 7.40mm worth of watch?

Piaget Altiplano Ultimate Concept
Concepts rarely make their way into full-scale production models – just look at the car industry – and yet Piaget has bucked the trend with a truly gasp-inducing timepiece we first caught sight of in 2018. Back then we had no idea that the watchmaker was merely giving us a sneak preview of the real deal. Yet, here we are, the Altiplano Ultimate Concept: the thinnest mechanical watch ever made.
And when we say thin… it is just 2mm 'thick' – that's basically the thickness of a two-pence piece. But why stop there? Incredibly, the buying process for one of these record breakers also involves a customisation process whereby you can specify colours for a host of individual pieces within the watch itself. Piaget, you spoil us. 

Richard Mille RM 72-01 "Lifestyle" Chronograph
Richard Mille has produced countless beguiling models over the years, but the RM72-01 "Lifestyle" Chronograph is the first in the brand's two-decade history to feature a completely in-house movement.
RM's watchmaking model is similar to that of the space industry or Formula One in that each component or material is highly specialised, usually including groundbreaking innovation, for the task at hand and, as such, the notion of creating everything in-house was always seen to be unnecessary. Yet, there is great appeal and, indeed, prestige to be found in the fact that here we have a typically elaborate piece of watchmaking (the Calibre CRMC-1 is a flyback chronograph movement featuring a new type of double tilting-pinion clutch system) made entirely under one roof.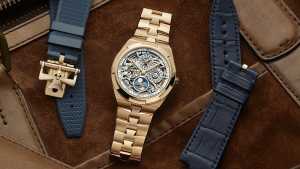 Vacheron Constantin Overseas Perpetual Calendar Ultra-Thin Skeleton
In a world where Patek Philippe's Nautilus, AP's Royal Oak, and Rolex's Submariner (or any Rolex sports watch, really) have waiting lists backing up years into the future, it seems unfathomable that the Overseas collection from Vacheron Constantin continues to be under appreciated. Hey, perhaps it should change its name to the Overlooked collection?
Anyway, here we have a striking sports watch design – the octagonal bezel, the Maltese Cross-inspired bracelet – that blurs the lines between haute horlogerie and sports casual. Sure, you're not going to wear this watch to your five-a-side kickabouts, but thematically it's still on the nose. As a dab hand with high complications, it's no surprise to see Vacheron Constantin interweave a perpetual calendar and skeletonised dial into this marvellous design. Remind me again why you're waiting in line for that Nautilus?